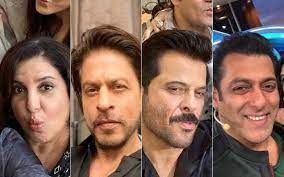 Salman Khan and Shah Rukh Khan's food habits
Farah Khan recently appeared as a guest on a food show as part of Anil Kapoor's episode in which he cooked for his friends. During the show, Anil and Farah began talking about Salman Khan and Shah Rukh Khan, as well as their favorite foods. As everyone knows, Farah is close friends with both Salman and Shah Rukh, and Anil is also close friends with them. Farah revealed that she has only seen Shah Rukh eat tandoori chicken and that he does not eat it with rice, roti, or bread.
However, when discussing Salman, Farah stated that despite having such a great physique, he loves to eat rice, biryani, roti, and everything else. Isn't it amazing?