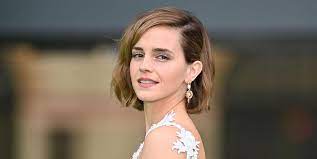 Emma Watson Makes a Red Carpet Comeback in an Upcycled Harris Reed Wedding Gown. The actress attended the inaugural Earthshot Prize Awards in London on Sunday. The Earthshot Prize is an environmental programme launched by Prince William and Sir David Attenborough to encourage climate change and sustainability solutions.
Watson wore a Harris Reed bespoke upcycled wedding gown and flared black trousers with big black boots. The gown was from the designer's Found collection, which made use of antique wedding gowns from Oxfam, an organisation that works to eradicate poverty. The actress accessorised her ensembles with pieces from Reed's partnership with Missoma.
She wore her hair in a bob and kept her makeup simple as she presented the Fix Our Climate Award at the occasion. The award went to AEM Electrolyser, whose technology creates gas by replacing fossil fuels with green hydrogen.                                  "I've spent a large portion of my professional life performing in fictional, make-believe realms where the impossible          can be made possible." "Now we must do the same for climate change in the real world," Watson said during her              address.