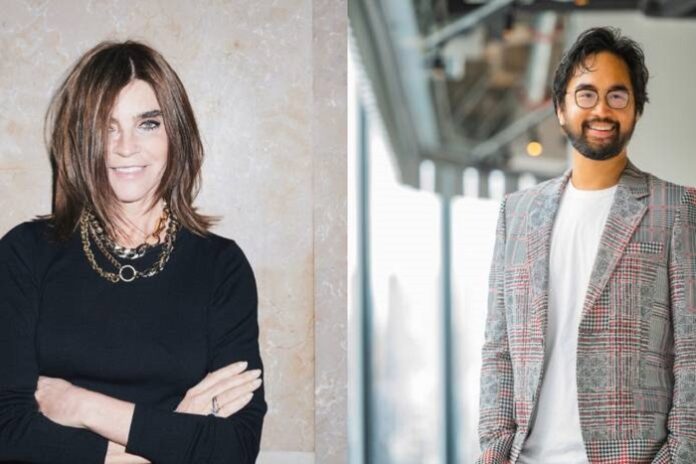 Carine Roitfeld Hosts Her First Fashion Show. In what must be a sign of the times, Carine Roitfeld's debut fashion exhibition, which was curated in France, will open with an online gala and be displayed at a luxury shopping mall and cultural centre on Hong Kong's neon-lit harborfront.
Carine Roitfeld party at the Hôtel de Crillon in Paris on Friday will be live-streamed to the party at the K11 Musea mall, which its owner, Adrian Cheng, has planned.
"Savoir-Faire: The Mastery of Craft in Fashion," which is set to open on Monday, will feature approximately 30 examples of contemporary fashion design, depending on the arrival of shipments; 12 Chinese artefacts; and a multimedia display of craftsmanship techniques. (Tickets start at 60 Hong Kong dollars, or $7.70, and are available until February 14th.)
"This exhibition is not a history lesson, but a showcase of savoir-faire in all of its forms," said Ms. Roitfeld, founder of CR Fashion Book and former editor in chief of Vogue Paris, in a video interview from Paris.
She stated that she did not want to create the kind of fashion retrospective that European legacy brands are known for. "I didn't choose the most extraordinary pieces, but pieces that will make you understand the savoir-faire," Ms. Roitfeld explained. "This is my first time curating an exhibition." However, I am curating it in the same way that I would a fashion shoot or editorial. I can't change who I am."
Among her options was a wedding gown from Chanel's couture fall 2017 collection, which featured rough-edged rosettes on the veil, sleeves, and hem of a voluminous, high-waist skirt. Another piece from Dior's couture spring 2019 collection was a minidress with sequined pastel fringe hand-sewn onto the bodice. Balenciaga, Givenchy, Loewe, Louis Vuitton, Tom Ford, and Valentino will also be in attendance.
"I want people to feel like they're a part of the exhibit, a part of the dream," said Ms. Roitfeld. "When you're watching the runway, you don't notice the details." However, in this exhibition, you will be able to feel the embroidery and the way fabric drapes on the back of a dress. "I'd like to show the audience what goes on behind the scenes, as if they were at a photo shoot."
Carine Roitfeld also chose independent designers in their 30s and 40s such as Iris Van Herpen from the Netherlands, Tom Van Der Borght from Belgium, and Richard Quinn from the United Kingdom, whose fall 2020 ready-to-wear show she styled.
"Savoir-faire isn't just for couture; it's also for prêt-à-porter." "This is a new concept that I wanted to express in this exhibition," she explained. "It is critical that it sends the message that savoir-faire is alive and well." It is still celebrated, even by the most recent fashion houses. It is not extinct."
Carine Roitfeld singled out Ms. Van Herpen as "one of the best in the world for use of silicone and laser-cutting techniques," which she showcased in see-through Swarovski crystal dresses and futuristic 3-D silhouettes.
"She always surprises me," said Ms. Roitfeld. "At the age of 23, she launched her couture label." That takes tenacity and perseverance."
"Savoir-Faire" is a continuation of Ms. Roitfeld's collaboration with Mr. Cheng, CEO of Hong Kong property firm New World Development and founder of the K11 brand. They collaborated on a three-part video series called "K11 Original Masters" earlier this year, which explored craft techniques like sewing feathers and quilting leather bags.
"We realised that savoir-faire was the common thread connecting European fashion and Chinese artisans," she explained. "The works are beautiful, unique, and powerful, with some conveying important messages."
Mr. Cheng's contribution to the exhibition will be the loan of a dozen Chinese artefacts from the K11 Craft & Guild Foundation, a nonprofit organisation he founded to preserve the skills required to make items such as Cantonese ceramics. Multimedia displays in the exhibition will contrast the Asian techniques used to create the pieces with those used in European couture.
Mr. Cheng felt it was critical that the exhibition be a "fusion of Europe and Asia" that paid homage to the history of craftsmanship.
"We can create these connections and rapport through objects that may appear different but involve the same shared passion," he explained. "For example, the Qing dynasty influenced the way French couturiers used feathers."
He also stated that he hoped to introduce the concept of craftsmanship to younger audiences, who frequent the seven-level mall on weekends.
"Today, everything is fast and about instant gratification," Mr. Cheng explained. "However, craft is both meditative and methodical. It represents perseverance, patience, and perseverance.