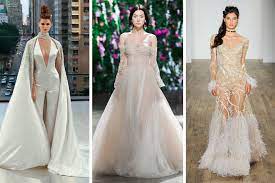 Bridal Fashion Week in New York. designers were especially pleased to show off their latest bridal collections at New York Bridal Fashion Week, which took place from Oct. 6 to 8. Although there were some in-person presentations, the majority of their 2022 autumn and spring ensembles were viewed electronically.
A variety of styles were shown, ranging from modern ball gowns with a traditional twist to sassy short dresses. "The bride today is seeking for fresh concepts that she has never seen before," designer Reem Acra said, "since she spent a lot of time throughout the pandemic looking at wedding dresses, so she wants something unique that she has not seen before."
Wedding postponements and cancellations fueled many brides' desire to go all out when the big day arrived, regardless of the magnitude of their wedding. And that meant a bridal gown that stood out. "Brides are more focused than ever on creating a visual moment with their dress," said Sarah Swann, Amsale's chief creative officer. Designers showcased gowns with a lot of texture and personality, such as tulle gowns with yards and yards of exaggerated frills, as seen in Amsale and Kaviar Gauche designs.
Necklines were more feminine and flattering, rather than risqué, as many designers demonstrated this season. "Square necklines look great on practically everyone, and what bride didn't love them in 'Bridgerton,'" said Shawne Jacobs, Anne Barge's design director and president of its parent brand, S. Jacobs. The regency-inspired square necklines detailed shapes such as Dana Harel's magnificent, beaded column dress and Anne Barge's and Kaviar Gauche's stunning ball gowns with sensual side slits.
Wedding gowns with a splash or wash of colour are constantly in style. Designers chose an edgier approach this season, adding a splash of black for striking contrast and an elegant aspect. Designers such as Galia Lahav and Scorcesa embellished ball gowns and sheaths with lovely black ribbons, and Vera Wang Bride used the dark colour to an oversize neck corsage adorning a tulle ball gown.
Flowy materials with cascading ruffles and sensual side slits accentuated and elevated simple shapes. "I'm seeing a recurring theme of romance and drama trending for the current bride, whether it's with a romantic, cascading ruffled silhouette or a high slit, and this look embodies both," Stephanie White, the founder and creative director of Odylyne the Ceremony, whose collection included a ruffled, off-the-shoulder A-line gown, said. Vera Wang Bride wore a ruffled, halter neck A-line with detachable cape sleeves, while Anne Barge wore a curve-hugging, strapless gown with an asymmetric high-low hemline.
Another trend for this season is the fluttery sleeve of varying lengths, which adds movement and grace to the dress. Claire Pettibone wore a high-neck Guipure lace gown with short, butterfly-like sleeves, while Ines Di Santo wore an embroidered mermaid gown with illusion bell sleeves. And Reem Acra met in the middle with a lace A-line gown with a cape-like bodice and floaty three-quarter sleeves.
Wedding gowns are being treated with white gloves. This vintage-inspired ornament was seen in designs ranging from Amsale to Vera Wang Bride. "Bridal gloves, long or short, are making a comeback," said Ms. White of Odylyne the Ceremony, who displayed sleeveless and puffy, short-sleeved gowns with exquisite crocheted or satin gloves. Amsale and Hermione de Paula adorned their gowns with gloves made of tulle and lace, while Vera Wang Bride went for a more edgy look, pairing a tulle netting ball gown with opera-length leather gloves.