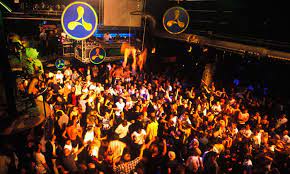 Because of advances in music technology, Londoners and Bristolians prefer house parties to nightclubs. We Brits have always been party animals, and with the winter party season quickly approaching, with Christmas party invites and 'save the dates' already arriving in our inboxes and social media feeds, JAM Wi-Fi Home Audio undertook the definitive poll of British Party Habits email 2016.
According to a JAM Wi-Fi Home Audio poll of 1,036 20-35-year-old British people, half (50%) of respondents from London or Bristol now prefer going to a good house party over clubbing, with nearly a third (31%) stating music-sharing technology has made house parties better.
West Country partygoers are even more into house parties than the rest of the UK, with more than half (55%) of Bristol (aged 20-35) respondents preferring a decent home party over going out clubbing. This winter, city dwellers appear to prefer house parties over clubs, with half (50%) of respondents aged 20-35 from London stating that they would choose to attend a house party over a club.
So, what is it about today's house parties that make them more appealing to young British people than going to a club? Perhaps it's because, according to the JAM poll, Brits aged 30-35 are the most likely to pull someone at a house party at exactly 11.42 pm! Which, strangely, is 13 minutes after the time when they are most likely to be intoxicated (11.29 pm), 14 minutes after the time when the music is most likely to be at its loudest (11.28 pm), and 49 minutes after the time when most people are most likely to start dancing (10.53 pm)!
"Our poll results show that music, more than anything else, makes a wonderful house party," says JAM's Nick Grocott. "Excellent music (67 percent), good banter (60 percent), and a good assortment of drinks are the three things that young British partygoers say make a great house party (40 percent ).
"40% of respondents who have attended a house party stated they spend the majority of their time in the lounge at a house party, primarily because there is where the music and action are, with men more likely to want to create their playlist." Almost half of the women interviewed (46%) said they prefer to be able to listen to a variety of people's playlists and hear new music, compared to just over a third of males (35%) who stated the same.