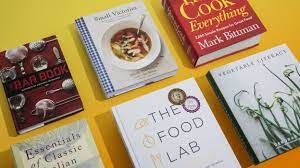 Omnivore's cookbook takes a close look at fall. "I'm not superstitious, but I won't leave unless it's feet first," says Celia Sack, who launched San Francisco's Omnivore Books on Food in 2008 after years working in the vintage book world. The Noe Valley business, built in a former butcher shop from around 1900, "with the original size and redwood-lined walk-in cooler," is good luck, according to Sack. And, for the past year and a half, while the rest of the world has been dealing with the aftermath of a global pandemic, Sack has been counting his blessings. Books sales increased in 2020 and are expected to remain strong in 2021 as readers continue to support small, independent bookstores in order to satiate their hunger for recipes in all forms.
I recently contacted Sack, whom I met on a book tour with my friend and coauthor Deuki Hong and have known for years, to discuss her love of vintage cookbook as well as the newer ones poised to hit the stores during the hectic fall season. I was curious about her cookbook holy grails and whether home cooks are still crazy with sourdough.
How has your store fared in recent months and in general?
It's been doing quite well, you know. We really fared better in 2020 than in previous years since there were so many individuals who needed to cook, either to learn how to cook or to obtain new ideas. And we began to upload all of our books to the internet. Previously, we only sold antiquarian books and imports that couldn't be found on Amazon. I've always assumed that if someone is going to bother buying something online, they'll do so in the cheapest method possible because they're not getting any special curation from me or anything. But I was completely incorrect; people rallied around us, which was fantastic for many booksellers across the country.
How about changes in buying behavior?

It's strange; I went through these extremely intense phases. When the pandemic first broke out, everyone was buying bread books like crazy, and publishers were running out of copies—many of these were older titles. So the warehouses were ripped out, and China couldn't restock them quickly, so it was ridiculous; you had all these backorders for bread-making books. And then, all of a sudden, it was gone. Six weeks in, you could see that many were thinking, "Fuck this. This is ludicrous, I'm not baking bread!" [Laughs.] So we had a tremendous supply of bread books on hand.
Then, with George Floyd's murder, the same thing happened. That movement began, and everyone began to buy books about African American cookery and by African American authors, which was extremely exciting, and I wish we could say that trend has maintained, but it has not. It, too, died. That isn't to say such books don't sell, but they aren't selling ahead of everything else like they used to, which was wonderful. So people are buying a lot of books about comfort food; they really—I mean, I had this amazing mix of individuals who really, really wanted to learn how to cook and others who wanted to extend their repertoire.
What is the first book you recommend?
Actually, there are two of them. One is unsurprising: Julia Turshen's Small Victories. It's a terrific book because all of the recipe titles are really easy. So I believe it is a large part of the problem when people read anything and are scared just by the title, and then she expands into variations on them. The other is an older one by James Peterson called Kitchen Simple. It's like learning how to make mashed potatoes. How to cook a steak. How to Make Water Boil. It's the most basic material you can think of, and there are shockingly few books like it out there.
You specialize in ancient and unusual cookbook. Is that a profitable venture?
Excellent inquiries. Yes, it's a big part of my business, and people frequently ask if I used to cook. No. For many years, I worked as a rare books specialist at an auction company. That was my background, and I had always collected and enjoyed food books, and I was able to locate the majority of the ones I desired. It's funny to see how your collecting habits change over time, because Victorian pastry books used to be a huge part of my collection, and I still enjoy them, but I'm out of the room now.