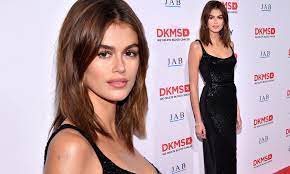 On the red carpet of the DKMS gala, Kaia Gerber wore full traditional glam. On Thursday, the model looked stunning in a black, sleek slip gown by Marc Jacobs with a glossy, dotted pattern embossed throughout as she attended the 30th DKMS anniversary gala at Cipriani Wall Street in New York City. Gerber also wore Tiffany & Co. bracelets, earrings, and a ring.
Vera Wang, Jaime King, and Coco Rocha were among those in attendance.
The annual DKMS Gala raises cash to give patients with blood cancer and blood disorders a second shot at life. "The DKMS Gala displays DKMS's work and generates critical funding to register potential blood stem cell donors for patients in need of lifesaving transplants," according to the organization's website.